The BiWEM master program is a full time program, 100% taught in English, dedicated to students from all around the world. The program is accredited by the French Ministry of Higher Education and Research and is internationally recognized worldwide.
Turning biomass and waste into a valuable resource, designing new processes – that meet energy needs while reducing the consumption of non-renewable resources and GHG emissions – and creating new markets (READ MORE) require highly trained engineers. To meet the society's challenges, successful future engineer will need strong analytical skills, practical ingenuity, creativity, good communication skills, business and management knowledge, high ethical standards, agility, resilience and flexibility.
To this end, BiWEM is positioned at the crossroads of Chemical Engineering, Environmental Sciences, Economics and Social Sciences & Humanities. Obviously, BiWEM gives students high qualification in STEM (science, technology, engineering and mathematics), which is essential for developing analytical skills and ensuring flexibility and resilience. To acquire practical ingenuity and develop agility and creativity, BiWEM combines multi-faceted learning experiences (hands-on computer training, serious games, use of creative thinking methods and art medium, class discussion, visits, lectures and conferences) with a « Do-It-Yourself » approach under the face-to-face supervision of expert practitioners, mentors and collaboration with the peers. Our wish is to have strong interactions between students, teachers, researchers and expert practitioners from the industry and a pragmatic and concrete approach. Overall, 43% of the training activities is dedicated to practice. READ MORE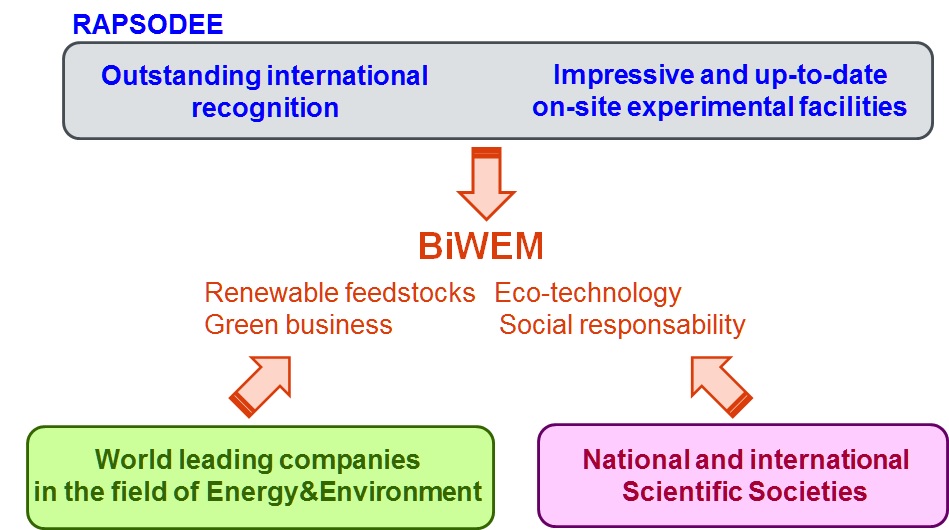 In addition to sound scientific and technical knowledge, the BiWEM program develops the ability to:
use state of the art, sciences, technology, business model and regulatory aspects to conceive and develop processing routes
understand, analyse and be able to manage complex systems
recommend strategies to meet business and ecological goals
work well with others, across cultures and disciplines.
BiWEM prepares executives, process engineers, project engineers, environmental consultants and future researchers for international careers in the field of waste and biomass valorization and circular economy. BiWEM master degree is a natural access to a PhD in France or abroad. READ MORE