The BiWEM master program offers a complete, well-rounded and multidisciplinary training that brings together engineering, economics as well as social sciences and humanities.
Strong emphasis is placed on dealing with process engineering and computational modeling with due consideration of sustainable development, policies as well as environmental and socio-economic issues. Advanced scientific experimental and computational methods and creative thinking methods are applied to identify, describe, quantify and find solutions to industrially-relevant engineering problems in the field of energy and environment. Another particular focus is put on the innovative and entrepreneurial aspects, especially related to how innovation can be fostered and brought to the market in different countries with due concerns about corporate social responsibility. This dual approach is particularly sought after by companies and will be a real asset for your career.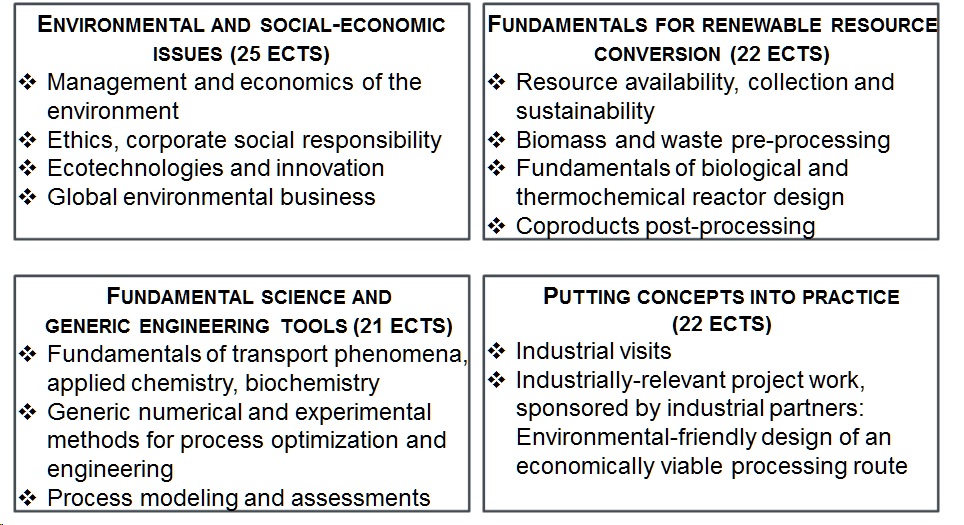 The master is a full time program over two years, made up of 4 semesters. READ MORE
To achieve a good grounding in a core set of engineering competencies, all students will complete a team project, which is intended to provide students with « real-life » experience. Students will work in small teams, typically 2 to 3, to design an economically viable biological or thermochemical process for the conversion of biomass and waste into a new material or energy carrier, within a sustainable development frame. Each team works on a separate design project based on best practice, methods and techniques. Teams are supervised by a panel of academic and industry experts. VIEW students' projects HERE.
During the 6-month MSc thesis (semester 4), students have the opportunity to consolidate and improve the knowledge being taught and the skills acquired. READ MORE